Artikel-Nr.:

J.22.SPM.FRT.XX.161W.1
Jones Frontier Splitboard Details: The all-terrain, shred everything split Der...
mehr
Produktinformationen "Jones Frontier Splitboard"
Jones Frontier Splitboard
Details:
The all-terrain, shred everything split
Der All-Terrain, alles Splitter zerfetzen
Ideal für Freeride, Freestyle und Backcountry-Pow
Das Frontier Split ist das ultimative Splitboard für verspielte Fahrer, die einen direktionalen Freeride-Shape ohne steifen Flex suchen.
Das Frontier verfügt über eine schwebende Freeride-Nase für Pow-Crushing und Crud-Busting, gepaart mit einem Freestyle-Tail, das perfekt ist, um Kissen zu knallen und Klippendrops zu stampfen. Auf eisigen Pisten oder festen Abfahrten sorgen das Directional Rocker-Profil und die Inner/Outer Traction Tech 2.0 Kanten für souveräne Stabilität und Kantengriff. Das Frontier Split bietet hohe Leistung, ohne an Materialien zu sparen, da er mit einer gesinterten 8000-Basis, einem Öko-Kunststoff-Oberblatt und einem Classic V-Kern ausgestattet ist, der speziell für zusätzlichen Pop zwischen den Füßen profiliert ist. Das Frontier Split ist außerdem mit einem verbesserten Karakorum Ultra Clip 1.0 und leicht austauschbaren, verschraubten Karakoram-Spitzenclips ausgestattet.
Art by: RP Roberts
Technology
Highlights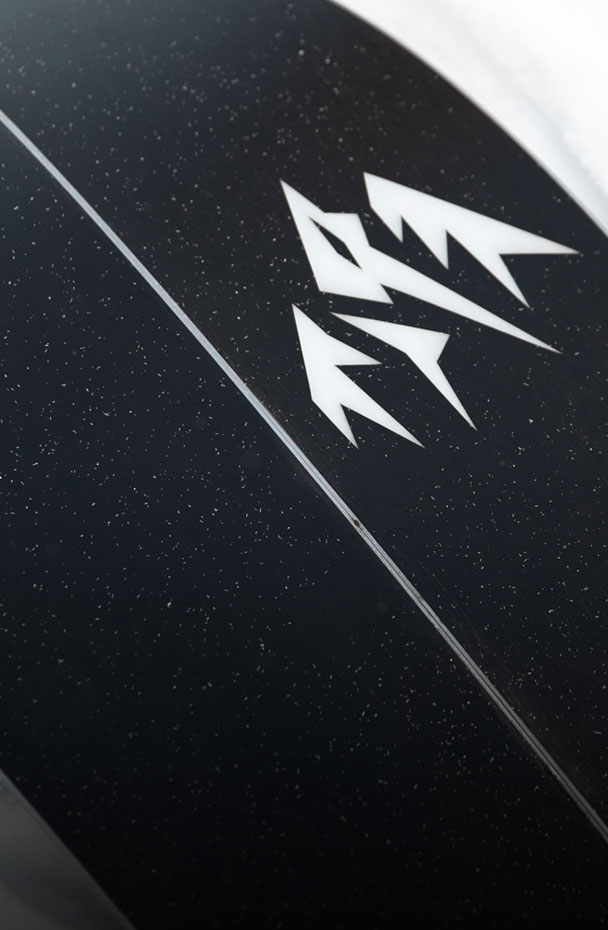 Premium sintered base
Life's too short to ride slow bases! All our boards have hyper fast sintered bases made from super durable and wax absorbant premium P-tex. See the tech features for specific base details.
Quick tension tail clip
Jones exclusive climbing skin tension system that attaches to pre-cut tail notches and eliminates the need for a traditional skin tail clip.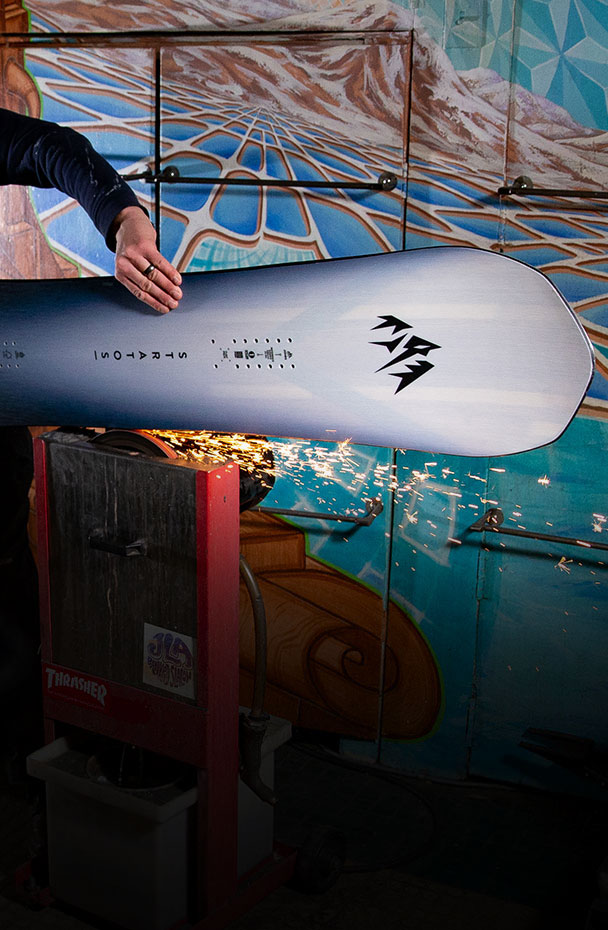 Factory tuned, ready to shred
Buy it, mount it, rip it! All boards leave the factory ready to ride with de-tuned tip + tail, edges angled at 90°/0° and bases waxed with Wend natural wax.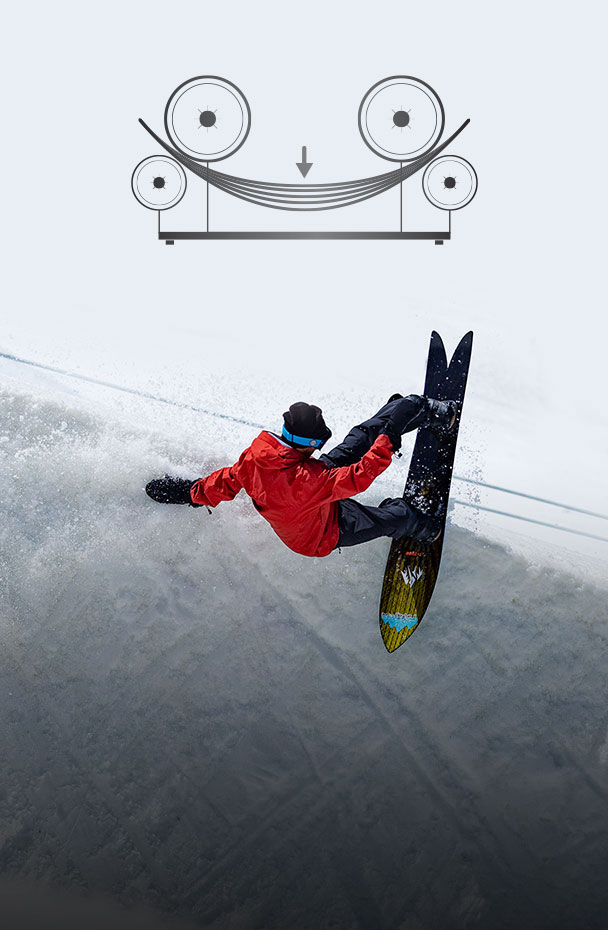 Forever Flex
Forever Flex is a new manufacturing process that helps stabilise the flex and rocker of a board for its length.

1. Inside & outside Traction Tech 2.0
Like a serrated knife slicing into the snow, Traction Tech improves your edge grip by adding multiple contact points along the running length of your board.
Inner edge Traction Tech
Inner edge Traction Tech improves splitboard edge grip on ascent. Three sidecut bumps on each side of your binding keep your locked in on icy skin tracks no matter which way you are traversing.
2. Progressive sidecut
At the far ends of the sidecut, the radius is incrementally increased as the edge reaches the contact point. Gradually increasing the sidecut radius towards the contact point delivers smoother turn initiation and exit as the edge tracks in and out of the snow with a less abrupt transition.
3. Quick Tension Tail Clip
Built-in climbing skin tension system using pre-cut notch that eliminates the need for a traditional skin tail clip.
Directional flex pattern
Off set tip-to-tail flex pattern that is designed for directional freeride boards. The nose, center of board and tail are slightly different stiffnesses to help lift the nose, sink the tail and improve stability at speed.
V-core
Jones exclusive wood core profiling that offers a stable and playful board feel. The wood core is softer between the feet for easy turn initiation and stiffer in the nose and tail for stability riding through uneven terrain and landing airs.
Blunt nose
How a board glides in powder, crust, corn or any snow more than an inch deep, is dictated by it's front contact point and just past it. Next time you are in soft snow watch how much snow comes over the corner of the nose near the contact point. The billowing snow coming out from behind the tip means you are plowing through it which is obviously slowing you down. By adding a blunt nose you get the float benefits of a much longer nose without the 'snow plow' rounded tip and it's extra swing weight. - Jeremy Jones
Directional Rocker
A hybrid rocker/camber flex pattern defined by more tip rocker then tail rocker and camber between the bindings. The rockered tip floats the board's nose and improves maneuverability while the camber underfoot provides edge hold and response. A slightly rockered tail maintains the power and stability of a traditional board but helps keep the tail catch-free initiating turns and landing switch.
"My experience is that most falls in freeriding start from the nose of the board – you either go over the bars in powder, the nose gets caught under a weird crust and tosses you, or you hit a hard tranny at the contact point of the tip and get bucked. Directional Rocker eliminates most of these falls." - Jeremy Jones

Built with the finest tech and materials
100% of our adult models feature high-end materials, construction technologies and sustainable manufacturing process. We accept no compromises in producing the most durable and sustainable snowboarding gear.
---
Base
Sintered 8000 Base
New super durable material made from Ultra High Molecular Weight Polyethylene (UHMW-PE) and carbon. Base is easily repairable, highly wax absorbent and wicked fast.
Wend Natural Wax
Jones boards are ready to shred straight out of the shop and are factory waxed with WEND natural wax.
Flip-Flop Base
Producing two or more base color options minimizes p-tex waste. Order may be filled with either color. Color does not vary by size.
---
Extra hardware
Karakoram Ultra Clips
Ultra clips are the strongest, lowest profile splitboard clips in the world. They deliver unmatched compression between board halves and they are adjustable so you can maintain even compression as your splitboard ages.
---
Fiber
Biax fiberglass
A dual-direction, dual-layer, stitched fiberglass laminate that provides a fun, forgiving and snappy ride.
---
Other features
Bio Resin
Bio Resin is a bio-based epoxy made with 27% plant-based carbon instead of petroleum-based carbon. The organic raw materials used to make bio-resin are co-products or waste products of plant-based industrial processes. Bio-resin requires 33% less greenhouse gas emissions to produce than conventional epoxy.
Oversized recycled edges
All Jones boards are made with oversized recycled steel edges for added durability and improved production sustainability.
Factory Tuned
All Jones Snowboards are factory de-tuned at the tip and tail so you can go right from the shop to the mountain.
Forever Flex
Forever Flex is a new manufacturing process that helps stabilise the flex and rocker of a board for its lifetime.
Recycled rounded ABS
Rounded sidewall finish that improves board durability by protecting topsheet from chipping.
Stainless steel reinforcement
Stainless steel plates are embedded into the nose and tail for improved board tip durability.
---
Topsheet
Eco-plastic topsheet
Bio-plastic topsheet made from Castor beans. This eco-material is ultralight, chip/scratch resistant and water/snow repellent (snow sticks less to topsheet).
---
Woodcore
Classic Core
Full wood premium poplar core than offers fun pop, even flex and solid durability.
Style: J.22.SPM.FRT.XX
Farbe: Blue
Weiterführende Links zu "Jones Frontier Splitboard"
Bewertungen lesen, schreiben und diskutieren...
mehr
Kundenbewertungen für "Jones Frontier Splitboard"
Bewertung schreiben
Bewertungen werden nach Überprüfung freigeschaltet.